Skip to content
Spine Neurosurgeon in Miami
Graham J. Mouw, MD, FACS, FAANS
Chairman of Neurosurgery and Program Director at Larkin Palm Springs Campus. Do you have anyquestions?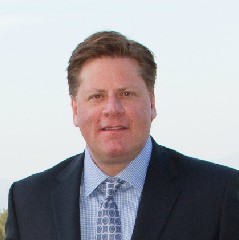 Board Certified Neurosurgeon
Dr. Mouw is a Board Certified Neurosurgeon and Founder of the Motion Spine Institute at Larkin. He is a nationally recognized leader in motion preservation spinal surgery and spinal restoration. His techniques have helped thousands of patients alleviate relentless back, neck, and radiating pain caused by degenerative diseases and
traumatic injuries.
Credentialed and Experienced
Dr. Mouw was a Dean's Scholar (top 10% of his class) at USC Keck School of Medicine. He then went on to complete a prestigious complex spinal surgery fellowship at the University of California San Francisco (UCSF), one of the top 3 Neurosurgery programs in the US, were he received the Chancellor's Service Award for outstanding leadership and service. Dr. Mouw was a former faculty member of one of the best hospitals in America, the Cleveland Clinic. He has lectured at international forums, appeared on NBC, PBS, radio, and published extensively.
Advanced Techniques and Technologies To Restore The Spine
Dr. Mouw has pioneered techniques in order to restore the spine to a more natural state in order to relieve pain and suffering. Most surgeons emphasize spinal
"fusion" where bones are fused together creating a rigid state without the natural motion of the spine. Dr. Mouw is able to utilize the newest technologies, many of which he has
pioneered, to restore the spine to a more natural state with full motion. He holds the first world patent for a Total Lamina Replacement system and was one of the first Doctor's in the world to develop mobile device Apps for telecommunication with a Doctor.
Talk to our care coordinator
Education & Training
Undergrad: University of California, Los Angeles (UCLA) (Los Angeles, California)
Medical school: University of Southern California Keck School of Medicine (USC) (Los Angeles, California)
Residency: University Hospitals of Cleveland/Case Western Reserve University (Cleveland, Ohio)

Neurological Surgery Residency

Fellowship: Spinal Reconstruction fellowship University of California, San Francisco (UCSF) (San Francisco, California)
Years of Experience
Over 22 years of experience
Certifications
American Board of Neurological Surgeons
Career Accomplishments
Over 30 publications and presentations in the scientific community

Chapter in the Encyclopedia of Neurological Sciences

Invented the world's first FDA approved patent for Lamina Implant and method
One of the first physicians to create a telecommunication app through Apple and Google Apps
Societies & Associations
American Association of Neurological Surgeons
Congress of Neurological Surgeons
Fellow American College of Surgeons
Faculty
Cleveland Clinic
Cedars-Sinai Medical Center
Florida Atlantic University
---